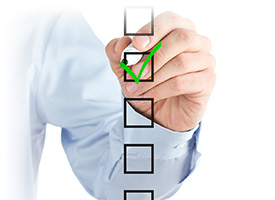 Visiting Rental Accommodation? Take along our 50-point checklist
---
You've found the perfect rental apartment – or so it seems – and you rush to sign the lease and move in. That's when you discover that rodents are your new roommates, water leaks from the roof, you're terrified walking home at night, and you've just received a heating bill you didn't know you were responsible for.
You can avoid this situation by reading this article and make sure you're not one of those tenants who's caught out because they didn't check the rental apartment properly when they visited!
It's easy to forget items on a rental accommodation visit checklist, so RentQuebecApartments.com recommends that you print this and bring it with you when you visit rental accommodation.
First steps when apartment-hunting
First, start your search on RentQuebecApartments.com or in newspapers for apartments for rent. Narrow-down your search by neighbourhood, and when you're ready to visit an apartment, call the landlord to set up a visit.
When you call the landlord, make a good impression by speaking clearly, mentioning that you have your references ready, and that you'd like to visit. Ask if anyone else has already expressed interest, or if there's an open house scheduled, ask politely if it's possible to see it before everyone else.
Take your time during the visit, and use the checklist. You can even use this checklist before you sign the rental agreement to make sure you know where you stand, or use it to negotiate with the landlord. Jot down your notes so that you'll have an accurate record when you move out to get your security deposit back.
Want to make sure you don't get caught in a bad situation for your next apartment rental? Print this checklist and bring it with you as you start your search! Good luck finding your home sweet home!
| | |
| --- | --- |
| CHECKLIST | YOUR NOTES |
| 1. Lease duration |   |
| 2. Responsibilities for utilities and access to counter |   |
| 3. History of rental price and next rental increase date |   |
| 4. Subletting restrictions |   |
| 5. History of bedbugs or rodents |   |
| 6. Furnished, semi-furnished or fully furnished |   |
| 7. Smoking and pet policy |   |
| 8. Rental insurance rate (previous tenant) and landlor d's insurance company |   |
| 9. Neighbours – number and lifestyle |   |
| 10. Flooring (carpet, wood) and condition |   |
| 11. Warps/water damage/cracks in floor, walls or ceilings |   |
| 12. Condition of the wall paint |   |
| 13. Number of outlets per room |   |
| 14. Amount of kitchen counter and shelving space |   |
| 15. Kitchen cabinet and behind stove/fridge check (signs of infestation) |   |
| 16. Presence of outlet for laundry machines/dishwasher and location |   |
| 17. Water pressure of kitchen sink, bathroom faucets and shower |   |
| 18. Working vent or window in washroom |   |
| 19. Towel rack and shelf space in bathroom |   |
| 20. Signs of mold or moisture damage in bathroom |   |
| 21. View from rental apartment |   |
| 22. Windows and doors close well |   |
| 23. Barbecuing restrictions on balcony or patio |   |
| 24. Natural light |   |
| 25. Closet space |   |
| 26. Cable, telephone, and internet plugs (any restrictions on telecommunications company in building?) |   |
| 27. Light switches functional |   |
| 28. Location of fuse box; condition of electrical wiring |   |
| 29. Noise levels in apartment (next-door, upstairs, elevators) |   |
| 30. Privacy (from neighbours/street) |   |
| 31. Dimensions of unit (doorframes, corridors) |   |
| 32. Year of building construction/apartment renovations |   |
| 33. Indoor/outdoor parking and restrictions |   |
| 34. Building amenities and access restrictions: pool, gym, garden, rooftop terrace |   |
| 35. Laundry facilities in building and cost per use |   |
| 36. Bin pickup days and location |   |
| 37. Mail delivery – individual mailbox? |   |
| 38. Additional storage space in building |   |
| 39. Winter snow clearing (responsibility) |   |
| 40. Functional smoke alarms in unit and building |   |
| 41. Peephole for apartment door/lobby monitoring from apartment |   |
| 42. Emergency exits on every floor |   |
| 43. Common areas for tenants |   |
| 44. Keys of apartment in circulation |   |
| 45. Average time for repairs |   |
| 46. Contact number for emergencies |   |
| 47. Safety of neighbourhood (crime statistics) |   |
| 48. Are you able to get solid cell phone coverage anywhere in the building? |   |
| 49. Nearest public transport stop |   |
| 50. Stores/services/green areas in neighbourhood |   |