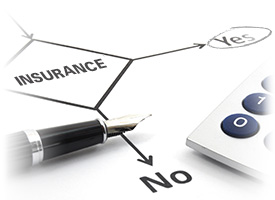 Ten Tips for Tenants about Rental Insurance
---
You've found the perfect apartment, got a good deal with your landlord, signed your lease, and you've just put on the kettle on to enjoy a cup of tea in your new rental apartment.
But what if your first visitor trips over the carpet and injures themselves…needing expensive rehabilitation for weeks? What if you forget that you've left the oven on and you start a fire… that spreads to the rest of the building? What if one of your bathroom pipes burst… and the water leaks down to your neighbour, destroying their property?
If you've been smart and taken tenant insurance to protect yourself and your belongings, then there's no need to worry!
Renting? Protect yourself with rental insurance!
New tenants often ask the same questions about rental insurance. These tips will convince you about how important rental insurance is if you're renting accommodation!
---
01

Renter's insurance is for tenants too, not just homeowners

Did you know that your landlord's insurance covers just the building? It won't offer protection for liability or personal belongings.

When you agree to a lease, you become liable for any damage caused to your unit but also to other parts of the building. Tenant insurance will protect you from getting sued in case an accident occurs in your home… and it also means you can get reimbursed if someone breaks in and steals your belongings.
---
02

Parental insurance vs rental insurance for students

Some home insurance policies will cover a child in university or college, although most will have limitations and may not cover students of a certain age. If your parent's insurance does cover you while you're studying away from home, make sure you let the insurance company know and make a list of all the belongings you'll be taking with you.
---
03

Rental insurance when sharing an apartment

Roommates often wonder if they can also share their rental insurance when sharing an apartment. Roommates should obtain their own individual rental insurance for several reasons – and ideally from the same company.

If you don't have individual insurance policy and your roommate has a party and someone gets injured, you can be held responsible too. Although you can probably find insurance companies that will cover both your property if you live with a roommate and "share" furniture, you'd have to determine who owns what in case something gets stolen or broken. One of you may have more expensive belongings which will hike up the price for the other. In fact, there's really no serious advantage to getting a shared insurance policy, so our advice is to get your own individual tenant insurance.
---
04

Rental insurance covers you for more than just your belongings

What if you don't have expensive possessions? Even if that's the case, have you thought about how would you replace your belongings if they were stolen or damaged?

Many tenants are actually surprised by how much they do have when they create an inventory – and by how much it would cost to replace everything. That's what you should consider when you're looking for rental insurance.

Most of all, though, tenant insurance covers you for liability, which is very important. Having that liability protection will allow you to rest easy, knowing that if an accident occurs or if you cause damage to the building or neighbour's property – or to a person – you will be fully covered.
---
05

There are limits to rental insurance coverage

Every insurance company and policy offers different deductibles, coverage and limits for losses and damages. At the very least, your policy should offer protection against loss and liability. Most insurance policies offer liability cover for $1 or $2 million. You'll have to determine the value of your belongings (remember it's not just about their current value, it's about the replacement value!).
---
06

Find out about your policy's coverage and limitations:
Disaster relief expenses (e.g. if you're forced out of your home)
Stolen property coverage
Any limitations and deductibles
Discounts
Pet coverage
Limits on reimbursements
---
06

Evaluating how much to get covered for

When you start obtaining quotes for rental insurance, you'll be asked how much you wish to be covered for. There may be some pre-defined easy options to choose from, or you may have to decide for yourself the value of your possessions.

Make an inventory of your belongings and write down how critical it would be to replace these and how much it would cost. If you have expensive possessions, take pictures of them and keep those somewhere safe.
---
07

Costs of rental insurance

Rental insurance often varies, but a basic insurance will run between $10-30 per month. It may be more depending on the deductibles and coverage limits.

Shop around for rental insurance – you'll often find discounts from groups like alumni or professional associations. Ask for possible rebates when you shop around for tenant insurance.
---
08

Getting a quote for rental insurance

Many insurance companies offer instant quotes online by filling out a form. You can also call the companies directly and speak to a representative who can answer all your questions.  

Your landlord should be able to provide details such as the year of the building and the construction materials. You should also have an idea of how much your valuables are worth and what you want to insure them for. Then you can choose your liability limit as well.

It can certainly simplify matters if you obtain a policy from the same insurance company as your landlord. The company will be more likely to pay up first in case of a claim, and follow up internally.
---
09

Other considerations

Insurance policies are like contracts: you should take the time to read them in detail and ask lots of "what if" questions.

Your policy may be limited by the type of building you live in or by the type of item you're trying to insure (e.g. expensive bikes or jewellery).

Insurance companies should also be informed if you're planning to operate a business from home, even if you're freelancing, so that you can be covered properly.

Typically, floods, lightning and ice storms are considered "Acts of god" and aren't covered, so if you're living in an area where these are commonplace, you may want to look into a separate, specific policy for this.
---
10

A last word about tenant insurance
Ask about identity protection in case of theft when you buy your insurance.
Take photos and keep receipts of any upgrades or renovations you make to your rental apartment, and notify the insurance company as well as your landlord.
Damage from pets may not be covered; make sure you inform the insurance company if you're living with a pet at home.
Update your inv entory of possessions every year, and keep photos of expensive items in a cloud (in case of fire).
---
Hopefully, you won't ever need to claim against your insurance, but knowing you're protected in case anything happens should offer you sound peace of mind!