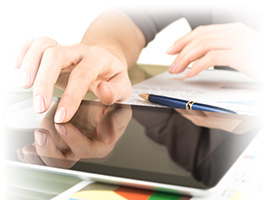 Writing a review on a rental apartment
---
Do you feel you'd like to share your opinions on rental properties and listings with others who are in your shoes?
Then why not write a review on RentQuebecApartments.com for apartments for rent that you've visited? We encourage our users to share their opinions on rental listings with others to help them with their rental search.
To help you write useful reviews and share your views, here are some tips and guidelines on writing a rental property review:
Tips & guidelines: writing reviews on rental listing
01

Be objective:

Clarity: Keep an open mind when writing a review, and make your description as useful as possible. What would another user want to know about this rental property? What features of the apartment for rent did you find interesting? Try to mention elements that others will want to know about.
---
02

Be honest:

Honesty: We hope you always have a positive experience looking for rental property, but know you'll occasionally have bad ones too. Be fair and honest so that the relevant party can use your review to fix the issue and improve.
---
03

Be specific :

Details: Good reviews are specific about what was good and bad about a visit to a rental apartment. Other users will want to hear about all the details that are hard to get when just looking at a picture.
---
04

Be brief:

Brevity: Keep your review short and simple, between 100 and 250 words ideally. Readers like to get a good idea in a nutshell. If it's too long or too vague, it won't be as useful for others.
---
05

Be classy:

Respect: You don't have to have perfect writing skills to write a good review, but what counts is using a respectful tone, and writing in simple, easy-to-understand language free of expletives. Sharing your experience of rental property visits will help lots of others in the same situation as you!
---
Writing reviews of rental property: do's and don'ts
Please…
DO share your views with others on RentQuebecApartments.com, we welcome your reviews!
DO keep to the subject: review a specific rental apartment you've visited, but keep other comments about renting in general for another forum.
DO make your reviews constructive – is there something that could have made the visit better? Is the rental apartment listing accurate? Give everyone a chance to improve.
DON'T spoil this tool for others by making threats or inaccurate reviews about rental apartments and listings. We'll have to take down any reviews with foul language or false statements.
DON'T give away personal information on your review such as your email address, mailing address, phone number, etc: protect your privacy.
DON'T use this tool to spam others – please keep the reviews clean of code or attachments.
We want to hear from you, so go ahead and start visiting apartments for rent, and share your feedback with other tenants!