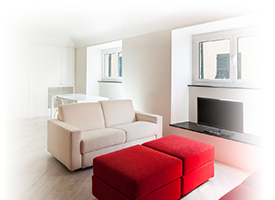 Deciding on a furnished or unfurnished rental apartment
---
Renting a home offers plenty of possibilities for tenants. Among the many options to consider, rental apartments come either furnished or non-furnished. Both have their advantages and disadvantages, and are geared for tenants in different situations.
Furnished vs. unfurnished: what it means
An unfurnished apartment means that when you sign the lease, there won't be any appliances (like a fridge, stove, or dishwasher) or furniture.
Some apartments come semi-furnished or partly furnished, which usually means that the landlord will include a working fridge and stove at the very least (sometimes also dishwashers or laundry machines). Semi-furnished apartments may also include window blinds or curtain rods.
Furnished apartments normally have everything you need, but are not very personalized. That means you'll usually find a table and chairs, a sofa, a bed, and some kitchen appliances, but the degree to which the apartment is furnished depends on the landlord.
Furnished apartments are intended usually for short-term rentals, for tenants who don't wish to buy their own furniture or those who only need temporary accommodation. Many corporate apartment rentals come fully furnished.
Typically, the furniture in furnished apartments is fairly tasteful and often in good condition – after all, the landlord wants to offer a turnkey solution, so the furniture should be clean and relatively modern. When you visit a furnished apartment, keep your handy checklist with you, and if you feel that some of the furniture is not in good condition, you can negotiate with the landlord to have it upgraded.
Furnished apartments are often more expensive than unfurnished ones, but you won't have to worry about moving fees or costs of replacing your own furniture, for example. However, the more furniture and items or the more well-decorated a furnished apartment is, the more likely it is that you'll see that reflected in the price.
Choosing a furnished vs. unfurnished rental apartment
Furnished apartments don't offer you much chance to customized your home or decorate it to your personal preferences, as most of the furniture and decoration will already be there when you sign the lease. They're convenient for tenants who don't plan on being there for long, or for those who don't want the hassle or cost of buying or moving furniture.
If you enjoy shopping in IKEA and picking out just the right piece of furniture to make a statement, then unfurnished apartments are for you. Buying furniture isn't cheap, nor is moving it if you decide to find another rental, but it is a good long-term investment. If you're taking an unfurnished apartment, consider staying for an extended period of time to make your furniture investment pay for itself.
Other considerations
What if you have a full suite of furniture you love, and you've found a perfect apartment, but it comes furnished? In this case, you have to make some decisions. You can try to work out an agreement with the landlord, but expect to shell out some extra cash, as the landlord will likely have to store that furniture somewhere. Alternatively, you could put your own furniture into storage, or sell it, but you should weigh the options carefully based on your future plans.
Rental agreements for furnished apartments
Lease agreements are an important, binding contract. Regard less of whether you're renting furnished or unfurnished, you should always check the fine print. If you are renting a furnished apartment, the furniture and its condition should be listed. Take photos of the furniture before you move in, so you can prove when you leave tat it's still in good condition (minus wear-and-tear, of course) and get your damage deposit back.
Most furnished places also include utilities in the rent, which should also be listed in the rental agreement. If you're not there for long, the last thing you need is to set up various accounts for your utility bills.
Moving out of an unfurnished apartment
If you're moving out of an unfurnished apartment, make sure you bring all your furniture with you. If you don't, the landlord may charge you a fee for removing it after you've gone. The new tenant may also sue you if you've left furniture and it's now blocking access to part of their apartment
Don't forget rental insurance
Even if you're renting a furnished apartment, don't assume that the landlord has insurance. In fact, you're responsible for any item that's listed in the rental agreement, including the furniture. That means if you damage something, you'll have to pay for it. Rental insurance – also called tenant insurance – can protect your belongings as well as your landlord's, and will cover you for liability as well.
Enjoy your new apartment!